Jul 31, 2023
Jul 30, 2023
Jul 29, 2023
真夏の日の出
早起きしたら、ちょうど日の出に出合った。
朝から暑いが、一度窓を開けて空気を入れ換える。
梅雨が明けてから晴れた日が続いている。
スマホで近所を検索していたら、フィンランドサウナという文字に目が止まった。
もう一件は、銭湯で500円足すとサウナに入れるところ、サウナが盛り上がっているのでこの辺でも増えてくるかもしれない。一度行ってみよう。
(下の英語文はchatGPTによる翻訳です。翻訳ではサウナが銭湯代+サウナ代で入れるように読めますが、日本語では2つの施設について書いていて、サウナ専門の施設は2人で、6000円ぐらいすると思う)



Sunrise on a Midsummer Day

When I woke up early, I happened to encounter the sunrise.
It's already hot in the morning, but I opened the window once to let some fresh air in.
Ever since the end of the rainy season, we've been having sunny days continuously.

As I was searching the neighborhood on my smartphone, my eyes caught the word "Finnish Sauna."
There seems to be a growing interest in saunas around this area, where a certain public bath allows you to access the sauna by adding 500 yen.
It might be fun to give it a try.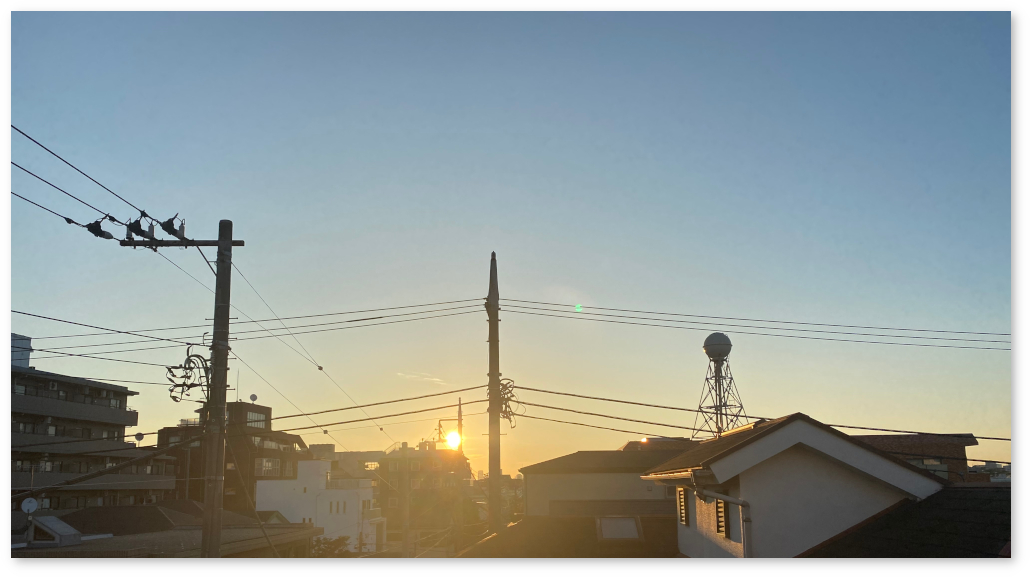 Jul 28, 2023
Jul 27, 2023
Jul 26, 2023
Jul 25, 2023
Jul 24, 2023
Jul 23, 2023
Jul 22, 2023
Jul 21, 2023
Jul 20, 2023
Jul 19, 2023
Jul 18, 2023
Jul 17, 2023
Jul 16, 2023
Jul 15, 2023
Jul 14, 2023
Jul 13, 2023
Jul 12, 2023
Jul 11, 2023
Jul 10, 2023
Jul 09, 2023
Jul 08, 2023
Jul 07, 2023
Jul 06, 2023
Jul 05, 2023
Jul 04, 2023
Jul 03, 2023
Jul 02, 2023
Jul 01, 2023